Starting your own professional brewery may seem like a lot of work. For some it starts as a hobby and then grows into a commercial brewery. For others it's an immediate investment choosing to start directly with a commercial, professional brewing installation. Both have one thing in common, they all have to go through the same steps. How to start your own brewery in 8 steps? You can read it below: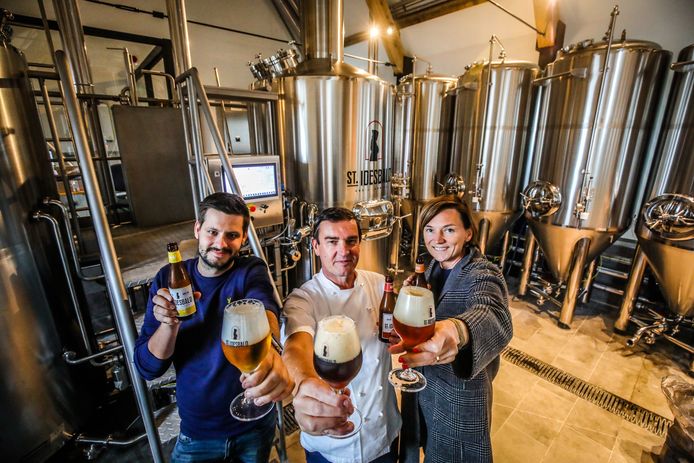 Image: Brewery St. Idesbald on the historic Ten Bogaerde site in Koksijde

What steps are needed?
The steps can be taken in a different order, but they all have to come up when starting a professional brewery!
1. Draw up a business plan
You want to fulfill your entrepreneurial dream and start your own brewery? Great! However, always remember everything depends on having a solid business plan. In this plan you list all the important issues for starting a successful brewery. The more in depth and the more prepared you are will increase your chance of success. 
2. Follow a professional training
Once your plan is ready, it's time to get started. Before you can take the next step you need to be sure that you meet the local and national requirements regarding brewing and business ownership! There are many training courses for professional beer brewing in Belgium, the Netherlands and France. You will learn everything about raw materials, liquid food hygiene, fermentation methods, brewing technology and the brewing process. Below we list a few well-known training centers for you:
Belgium:
France:
The Netherlands:
3. Define your method of delivery –> craft brewery/brewpub
An important question to ask is "How do I want to deliver my product"? Do you want to start a microbrewery and then bottle your beer for sale in the supermarkets or craft beer stores? Do you want to sell directly to clients in your own pub brewery (brewpub)? In both cases it's the same product but with a different approach.
4. Dimensioning the project (volume)
Now that you know how you will deliver your product, you can start dimensioning the project. Capacity is usually determined based on the following factors:
What kind of beers do you want to make

The volume of beer that you want to sell a year

How many days a week do you want to brew?

Do you only want to brew beers for a brewpub or is bottling also involved?
Our specialists will be happy to help you with this exercise!
5. Find the right place for your brewery
After dimensioning your brewery, you will have all the information you need to pick the perfect location, just remember the location of your future brewery must meet all the requirements of the food industry. More on this later.
Choosing the right location is very important. A well thought out brewery design can save you time, work and costs.
Keep in mind that you will probably have to expand your capacity gradually. A luxury problem, but this increased volume will require more tanks and more space. That's why it's a good idea to plan for future expansion right away. And when the time comes, all you have to do is connect some new tanks.
6. Putting administration in order
Another thing that should not be forgotten is all the paperwork that needs to be applied for.
The first step is a company number. What you also need is an approval from the Federal Agency for the Safety of the Food Chain (FASFC), which – since you work with food – will inspect your brewing installation and premises for the necessary hygiene requirements. You must also submit an application to the Customs and Excise Administration. The inspection department will then come and inspect your installation. Finally, an environmental permit is also required. This of course depends on the location (country) where you want to brew. Our specialists will be happy to help you with these tasks.

7. Marketing of your brand and beer
Once you are a fully trained brewer, you know where you want to set up your brewery and all the paperwork has been requested/approved, the next step is to think about the marketing of your beer.
Marketing is becoming more and more important and so is a good brand for your beer. Again, there are a number of options to choose from.
For your own brand you will need a logo, branding, website, social media and so on. If you already have some experience with this, you can go ahead and design your own branding and logo and set up a marketing plan. If you have less experience or if you prefer to leave this to others, it is of course possible to let others guide you.
Specialists in this field are for example the people of L'Echappée Bière
8. Order your equipment and start brewing
You're all set! You have an elaborate business plan and you know who you want to brew for and where you want to do it. Everything is administratively in order and the marketing of your beer is taking shape. Now it's time to tie the knot and order the brewing equipment. Before you know it, you'll be enjoying your first brewed beer!
Contact us today to make your brewing dream come true!